One more save
Bowl fall saved by helmet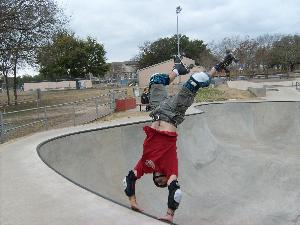 Last Monday, I was skating the Round Rock skate park. I decided to do a trick that I consider to be a basic for me. I pop out of the shallow end of the bowl and onto the deck doing the splits. Then, I roll into the 10 foot bowl while in the splits. This time, I was surprised.
I caught my rear skate on the re-entry and fell to the middle of the transition below. It wasn't a terrible fall, but I fell in such a way that I wasn't able to slide, and my hands could not get behind me to brace and/or control the fall.
Upon contact with the tranny, my head whiplashed backwards and struck the concrete just hard enough that I saw major stars! My left leg felt some pangs of numbness, and I could tell that I came close to being knocked out. I was wearing a brand new triple eight helmet.
I know that had I not been wearing that helmet, I wouldn't be telling you this story right now. In fact, because of that helmet, I shook it off and had a really fun 3 hour session that night.